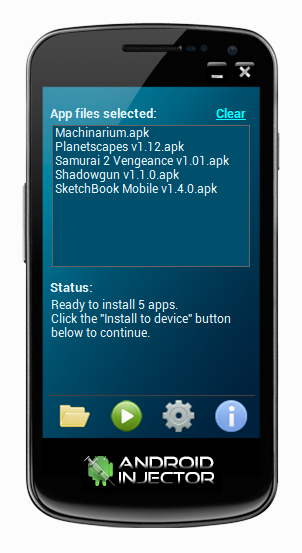 Now you can install apps on your Android powered phone or device without having to get them through the Google Play Store.
Recent changes:
Android Injector allows you to effortlessly install apps that you have downloaded to your computer in the form of ".apk" files onto your Android phone or device. Some phones and service providers do not allow you to install apps from any other source except the Google Play Store. However, some app authors do not release their apps to the Android Market and elect to put them on other sites such as Getjar.com. Android Injector allows you to download apps from those other sources to your computer and then install them onto your phone from your computer quickly and easily via USB connection.
Just install the USB drivers for your phone or device onto your computer (check your carrier or device manufacturer for drivers), connect your phone to your computer via a USB cable, select any amount of Android app files (.apk) and click "Install to device". No need to root your device or any of that complicated stuff.
You can even optionally have apk files associated with the program so that you can select them in Windows Explorer, right-click, and select "Install with Android Injector" to have the program automatically open with the files loaded and ready to be installed. Click the Install to Device button and the program goes about silently installing your selected apps and lets you know when it's done.
Visit our download page and pick up your copy of Android Injector completely free today.