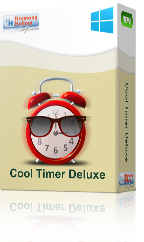 Introducing
Cool Timer Deluxe
, an all new, powerful, feature-packed, cooler-than-ever version of our popular Windows timer solution, Cool Timer. Use as a countdown timer, alarm clock, or stopwatch. Set unlimited alarms for any or only certain weekdays in alarm clock mode. Use any sound files or playlist music files for alarms so you can wake to a differnt song every morning! Run unlimited computer tasks automatically when the alarm goes off and much more.
Click here to check it out.
Don't need all those fancy features? Click here to download the free version of Cool Timer.